12:00 - 16:00 daily, Oct 6 - 10, 2014

"Goldsegen"

Answer the question "How much do you need to be happy?" and receive an instant lucky charm - a photo of you standing in a shower of gold euros.

Part of the public art project "Das Rätsel des Überflüssigen"
(Conundrum of the Superfluous") by Serafine Lindemann | artcircolo
With pilotraum01 e.V., GCN and DantonDenkRaum

More information: Goldsegen (Blessings of Gold)
Jan 17-20 2014 @ UNPAINTED Media Art Fair Munich

"Transformation: Munich (Lehel)"

Presented by pilotraum01 e.V., curators Serafine Lindemann (artcircolo) and Christian Schoen (kunst | konzepte)

Many thanks to the Department of Arts and Culture of the Bavarian State
Capital City Munich and to LAYAR for sponsorship for this event!

More information: UNPAINTED | Transformation | pilotraum01
Corcoran Gallery of ARt / Corcoran College of ARt and Design
August 14 - September 1, 2013: "Manifest:AR" - invitational exhibit
August 31st, 2013: Panel (12-2pm ) and reception (2-4pm)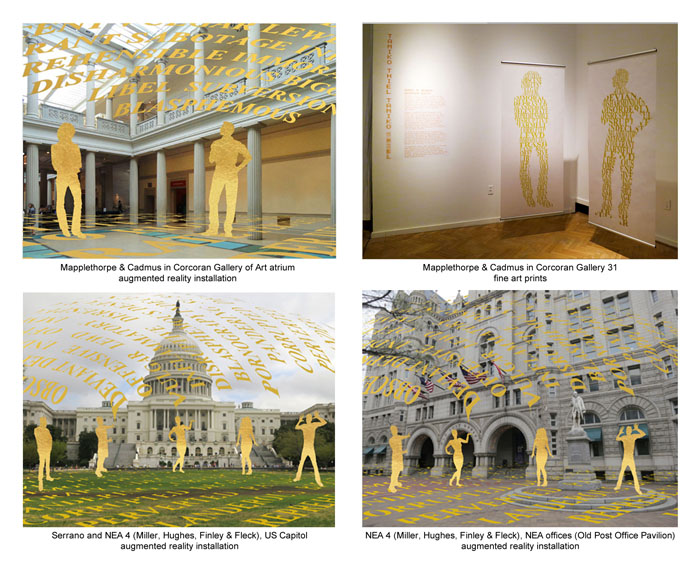 The 4th work in the "Shades of Absence" work series, "Governing Bodies" is a monument to artists censored due to pressure from high U.S. government officials. Fine art prints of silhouettes of Robert Mapplethorpe and Paul Cadmus - formed out of terms of censorship - were exhibited in the Corcoran Gallery 31. The augmented reality work includes artists such as the NEA 4 and Andres Serrano, and is geolocated permanently in the Corcoran Gallery of Art, the U.S. Capitol Building and the National Endowment for the Arts offices in the Old Post Office Pavilion.
[ Manifest:AR exhibition website ] [ Corcoran Gallery press release ] [ Shades of Absence website ]
"Biomer Skelters" - biosensor driven city-wide augmented reality public artwork in Liverpool
Manifesting internal biorythms as external wild growth reforestation, this crowd sourced urban artwork transforms participants into virtual biome propagators. (With Will Pappenheimer.)
June 14th - September 15th, 2013
Part of the Manifest.AR exhibit "Invisible ARtaffects."
A FACT Liverpool commission for their 10th anniversary exhibition "Turning FACT Inside Out."
In collaboration with Liverpool John Moores University and the World Museum Liverpool.

Click here for: [ More >>> ] * [ Play Video ] [ Participate in Liverpool (scroll up if needed) ]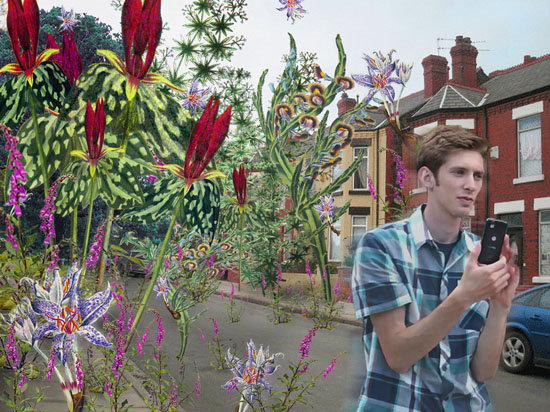 Three of my artworks are showing in Singapore for the Digital Art Weeks, curator Art Clay
Click here for more >>>

"Transformation"

4 channel video (music by Gerd Kötter) and augmented reality installation, St. Lukas Church Munich (Lehel).

An art project on possible realities for urban life in the future.

Part of "overtures ZeitRäume," a project series by pilotraum01 e.V. curated by Serafine Lindemann / artcircolo and Christian Schoen / kunst | konzepte, in cooperation with the St. Lukas Church Munich, Pastor Beate Frankenberger, and the citizens of the Lehel neighborhood in Munich.

More information on "Transformation" here ...




Presented by the Samek Art Gallery/Bucknell University and ZERO1 Biennial 2012

Manifest.AR was commissioned by the Samek Art Gallery of Bucknell University and by Zero1 itself to create new works for the Zero1 Biennial, Silicon Valley, USA. I showed two new works, Clouding Green and Fortune 500 Cookies, and have placed the ARt Critic Face Matrix in the San Jose Museum of Art and San Francisco Museum of Modern Art.

Please click here for an overview of my works for Zero1.
Click on an image below for an individual project.

"When I Dream" @ Art Gwangju - augmented reality installation

Presented by The Art Syn Projects (London):

"ARt Critic Face Matrix" in No.Need.For:Real? @ Triennale di Milano



"To Question is GOLD" -

augmented reality installation

"All Hail Damien Hirst" - AR intervention at the Tate Modern:

Goethe-Institut Second Life Artist in Residence:

"Dislocative Sculpture"


"Perceptive Dislocations"

"Louvre Illuminati" - Louvre intervention
"Reign of Gold" - AR Occupy Wall Street